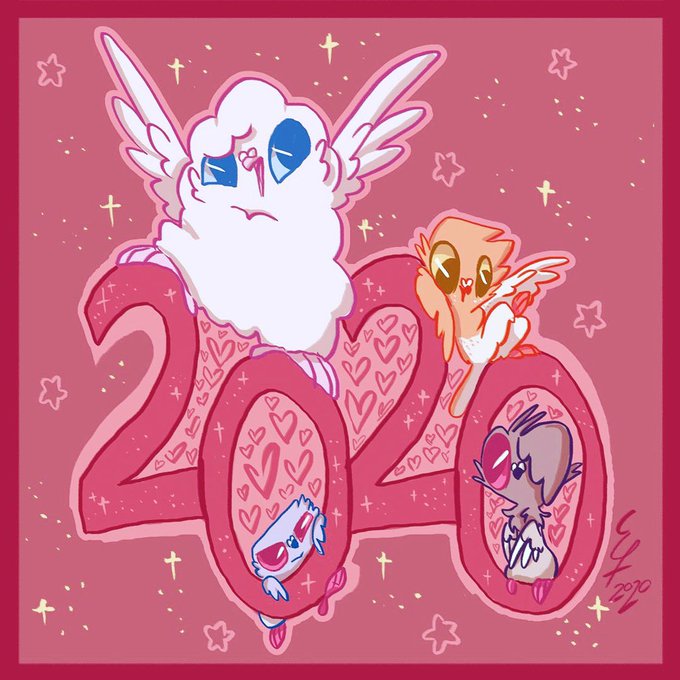 ... yeah so WHOOPS, I kind of just... forgot to update my blog for two months. OH WELL, LETS KEEP GOING ITS 2020 AWWW YEEEEEEAHHH
Here we are, with that sweet 2020 vision! Well, not me since my eyesight went straight to heck last year but never mind that. The point is, I had a lot of plans for where I was going to take Crumbs this year. 2019 was a good year for getting things going but it was also a bit crummy thanks to my rather uuuuuhhhhh shaky health, shall we say. But despite that, I'm feeling optimistic and excited for what I can do with my little bird friends this year.
I've kind of combined some things from November and December into this entry because they were cool and it's not their fault that I was such a goober and forgot about my self appointed task to update the blog at the end of the month. Wowee, I'm good at this business and time management stuff!
But hey, better late than never. So here's how the past month(s) was/were for Moodypidge and the Crumbs!
Wisdoms
Some pretty optimistic ones this time around, with only a bit of tough love from Salty. Our favourite little critic. She helps us keep it real.
Click on the image to go into a bit more detail!
Speedpaints
I finally started my YouTube channel in December! I'm still finding my feet here and there with the programs but I aim to make a video either once a week or once every two weeks, depending on various factors. Here's what I have so far! And don't forget to like and subscribe~
Product(s) Of The Month(s)
(I'm combining the products from December and January)
Last year (2018), Mum and I teamed up to make a homemade calendar for friends and family. It was great fun to do (aside from printer stress) and after the amount of attention my Crumbs of Wisdom series had gotten after Inktober that year, I was excited to make more products with self care reminders to help the people I love.
So I decided to do the exact same think THIS year (2019) and add it to my store and stall! And I'm happy to announce that it was not only a success but sold out TWICE. Hot diggety dang! So I'm definitely going to make another for 2021. But I;m definitely gonna make them like... waaaaayyy earlier than I did this year. Sorry, Mum. I owe you my life. Probably literally.
After the success of the Halloween exclusive charms, I wanted to make a sweet little accessory for people's Christmas trees or wherever they'd like to hang it for the festive season! This time, it was Sweet's time to shine and I can't believe how cute she looks in the little stocking! Others seemed to think so too, and sent me pictures of her on their trees! I also gave some to my parents, my future Mother In Law and kept one for mine and Ruari's tree. They were quite a hit! Although I still have some left over... which I suppose I'll hang onto for next year and sell alongside the 2020 decoration!
Normally I'd share a link to the aforementioned featured items but as these are seasonal and also sold out in the case of the calendar, I'm afraid I can't with these ones. BUT that's not the case for the next item!
Comics
So I finally started doing those autobio comics again! About heckin' time, right? Jeeze. I was struggling with how to draw myself for ages and I think I've just about nailed how I want to look in these comics. I've drawn myself like a total exhausted grump but in all honesty, that's pretty much how I am at least 85% of the time. Ruari can vouch for that.
So the plan for these comics are to explore my mental health in ways that are relatable while not being too melancholy and uplifting without being sanctimonious. Idk, I'm trying my best to find a middle ground. Here they are, anyway! I upload them every Friday.
Animation???
Haha, yes! I indeed animated something this month!
I always get hyped when Pictoplasma, or specifically their Pictofilio site, announces a challenge. This one was the 2 Cute To Fail challenge, where we had to create an utterly adorable character that will make everyone's hearts explode. I could only enter one character at a time so naturally, Sweet was the obvious choice to go with. And it's a good thing I did; look at her!
It was a fun little challenge for myself and hey, even if I don't win, I made a sweet little animation that might be featured as one of my Facebook stickers! Imagine, using this sticker to beg a friend for the last chip or some other delightfully devilish purpose. The power is in your hands! Or in your phone. One day. One day...
OOH and I almost forgot to say! Because my entry was one of the first 100, I got myself access to Clip Paint Studio for THREE MONTHS! Ummnf, that's some nice stuff right there. I'll have to play around with it and see what neat things I can draw on there!
... well, birds obviously.
Appearances
Then December came with TWO events! The Anarchy Alt Winter Market which was once again great fun with awesome food and awesome people! I'll be at the Anarchy Spring Market in March, fyi. So keep ya diaries empty for that one!
Then two days later I was at the Sister Shack Festive Market! I got to meet some awesome people there and I hope they'll keep me in mind for any future events!
And now to January, where I found out about this event on Instagram! I wasn't sure what to expect from an event so quickly after Christmas BUT I sold the last of my calendars and got a lot of interest from local mental health groups, which is really exciting! Although I wish I hadn't lost all the Salty business cards. But they are due for a redesign...
I have another event coming up NEXT MONTH, so keep your eyes on the Events tab and my social media accounts to find out what and where that is~
This Month's Mood
The birds were always intended to be my own personal mood trackers, hence why they usually portray certain emotions. Their characters seem to be expanding a bit however and they're not as one dimensional as they once were. But for the purpose of the tracker, they're going back to their stereotypes.
And I gotta say, my overall mood for January was quite positive/neutral for the most part! I had some bad days due to nasty panic attacks (which can knock me down mentally for uuuhhh a good couple of days at least) but this was also the month I found my wedding dress, got back into the swing with Crumbs, started seriously planning the wedding (since its in october, shit shit shit) and just felt more confident in myself for the most part. It probably helps that I'm trying to stick to a routine and regularly walk at least two miles a day. Not anything special, I know. But I have to be gentle with myself for a while physically. Either way, I'm starting to notice a small difference in my strength and what I can handle!
I'm grumpy today though because Brexit is an awful idea and I'm not for it at all and I'm just hoping somehow everything will be okay.
... so uh, yeah! That's all for now! If you want to keep on top of these updates, follow Moodypidge on the social medias in the tabs above. Otherwise, I'll see y'all next month! Take care, look after yourselves and be good people.
~Emma