Oh jeeze. It's been a liiiiiittle while since I updated, huh.
I'll try not to make things too long. The reason I didn't update for June was because I ended up in the hospital shortly after Sunnycon was over. Nothing serious, don't worry! It wasn't pleasant though and it left me with a very painful hole in my arm that's only just healed up. And by the time I started to feel better and able to work on things, it was halfway through July so I figured, "Eh, the hell with it; I'll just write about the two months at once I guess, no biggie."
I had to leave my job for recovery time as well. I was intending to leave after the summer when I'd saved up some money in order to start working on Crumbs and Moodypidge full time. But sometimes things don't work out how you plan them to. And while my arm is more or less healed now, the fatigue and pains from my fibro has gotten stronger.
So, not an ideal situation to be in but it's the one I'm in regardless! So now I need to see how I can make the best of it. For now though, here's roughly what happened and what I worked on in June and July!
First of all, lets get started with some Wisdoms! They're mainly what I use to explain what I want to do with Crumbs so it makes sense to open with them.
I have more of these in the works and I plan on being able to release these at least once or twice a week. But again, after the hospital and everything, a lot of my energy was zapped out of me. Either that or I was busy preparing merchandise for my conventions!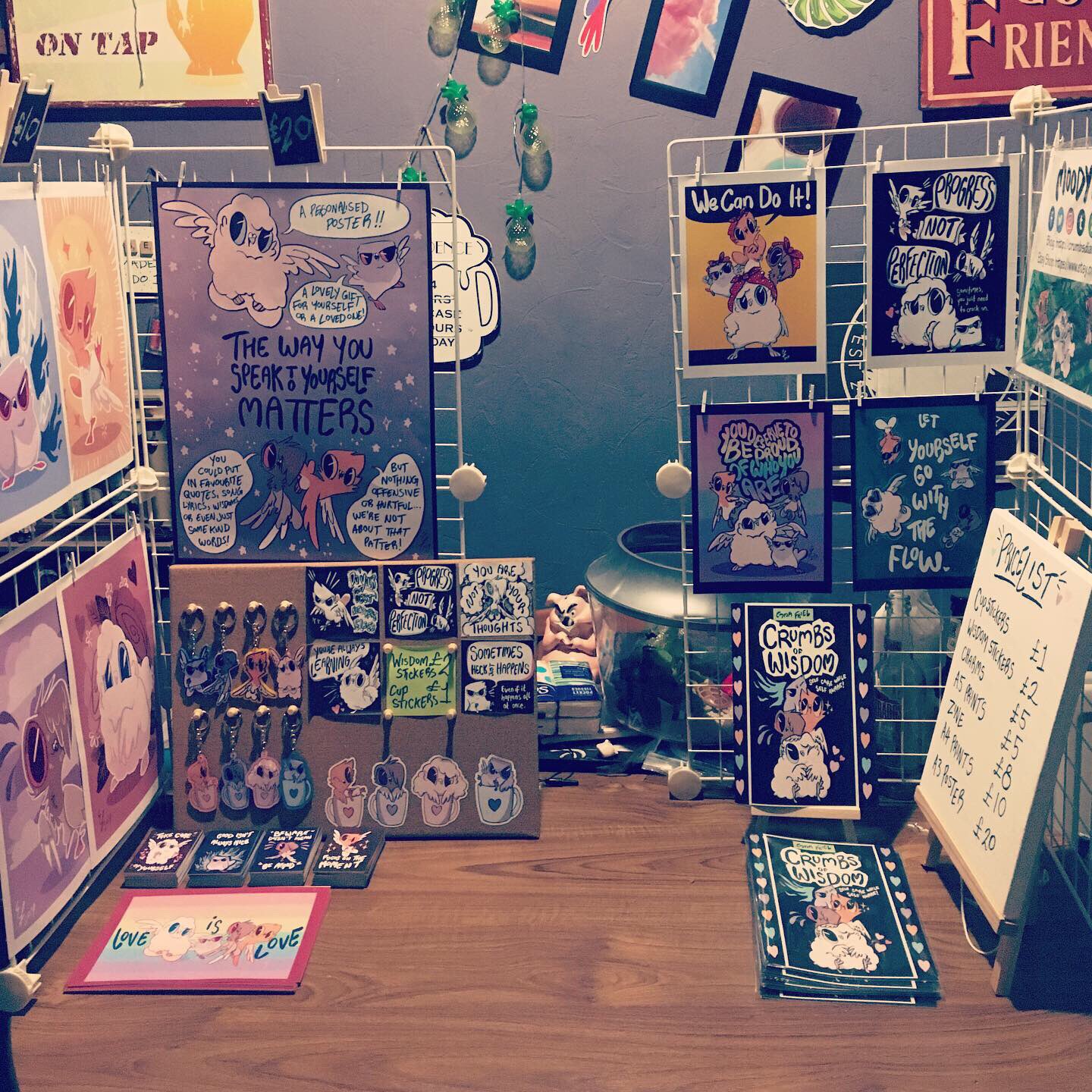 My first ever table setup plan! My table in the kitchen isn't the biggest so I wasn't prepared for the amount of space I actually had at the con but it's good to be able to work with small spaces! I was definitely surprised at the size of table I had when I got there. Luckily my Mum was there on Friday to help me with using space!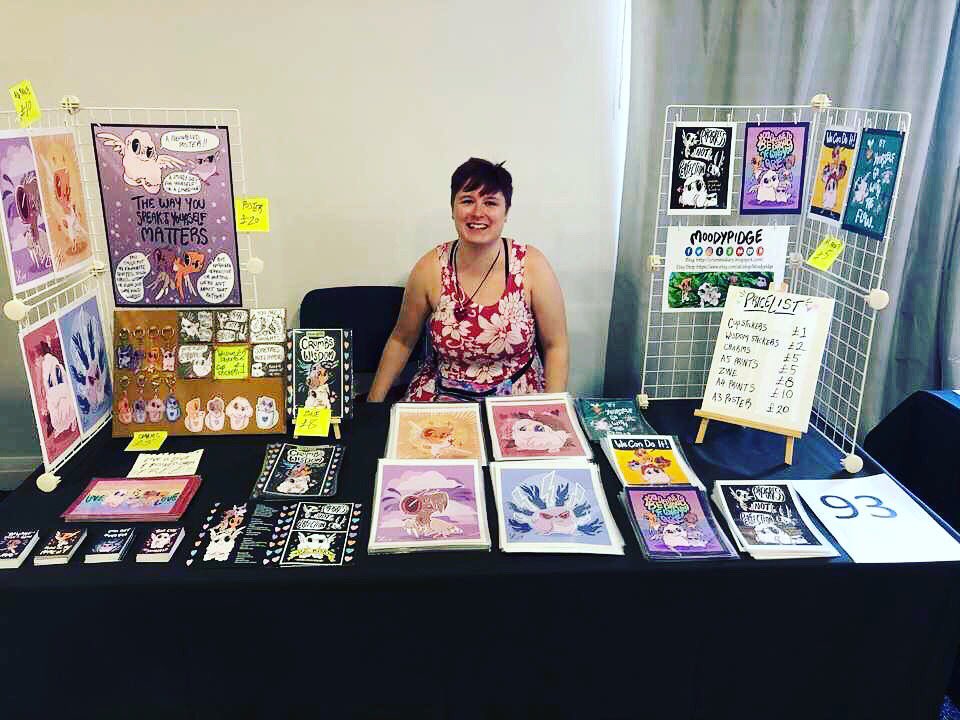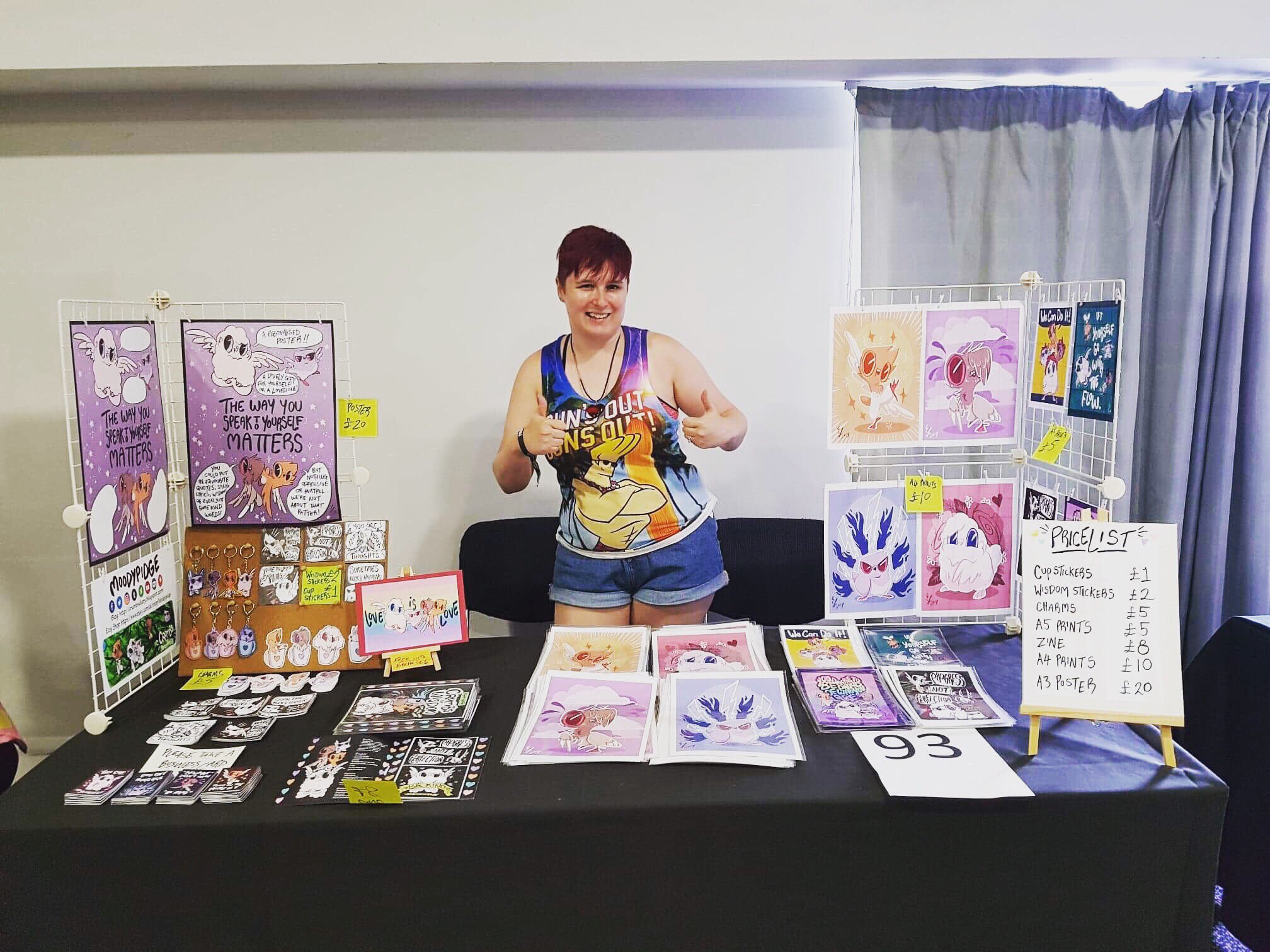 It was an amazing event and I made lots of new amazing friendos! It was a really helpful way to see what products were popular and which ones might be better suited for other events. Gotta get out there and do that sweet, sweet test trading!
Also on the friday, I was actually interviewed by Spark Sunderland Radio! The interviewer heard my Mum telling someone about my work while I was quickly using the facilities and then I come back to them wanting to interview me about Crumbs and what my goal is with my work. Honestly not something I had planned on happening but hey, that was indeed a cool thing that happened!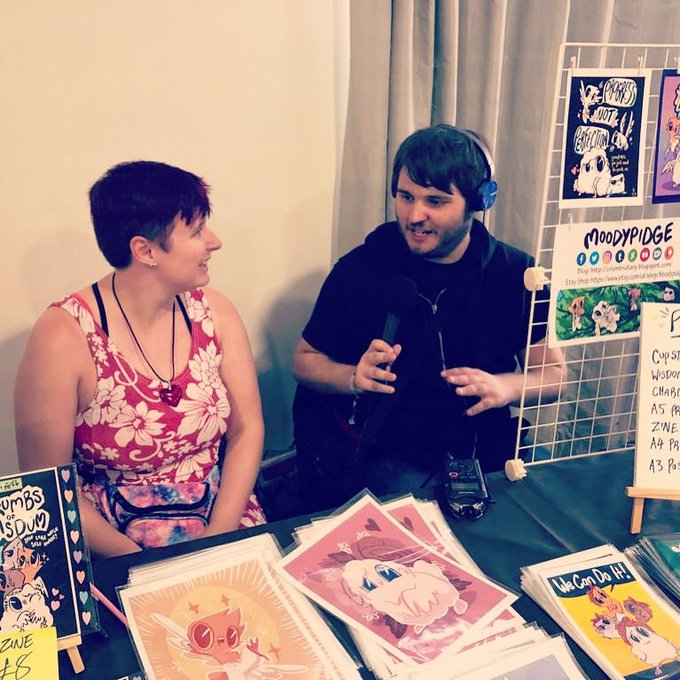 Also Ruari made this so I'm throwing it in.
All in all, it was an amazing convention and I'm pleased to say I'll be back next year! I got the confirmation after my surgery so I was more chuffed than anyone in the hospital probably should be.

But Sunnycon wasn't the only event I've been to so far!
Now it's July time, full of recovery, events and even a bit of business planning!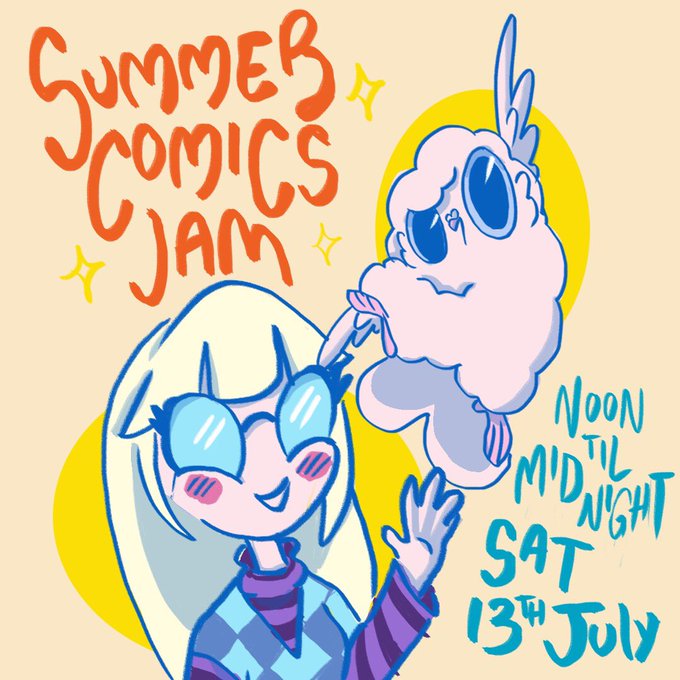 I recently joined a local comic group called the Paper Jam Comics Collective, an awesome group of people who love reading comics, making comics and sharing comics. They had an event in Tyne Bank Brewery to celebrate Small Press Day and I couldn't resist the opportunity to take part, even if it meant I couldn't take any codine so I could drink. Hey, we all have to make sacrifices.
I shared a table with my sweet friend
Pabbiecrafts
, who very generously supplied this blanket for the table as I had kind of forgotten to bring one for me, lmao whoops. I kept my stock light compared to Sunnycon as this would be a much smaller event, and instead brought my smaller prints, wisdom stickers and, of course, the zine.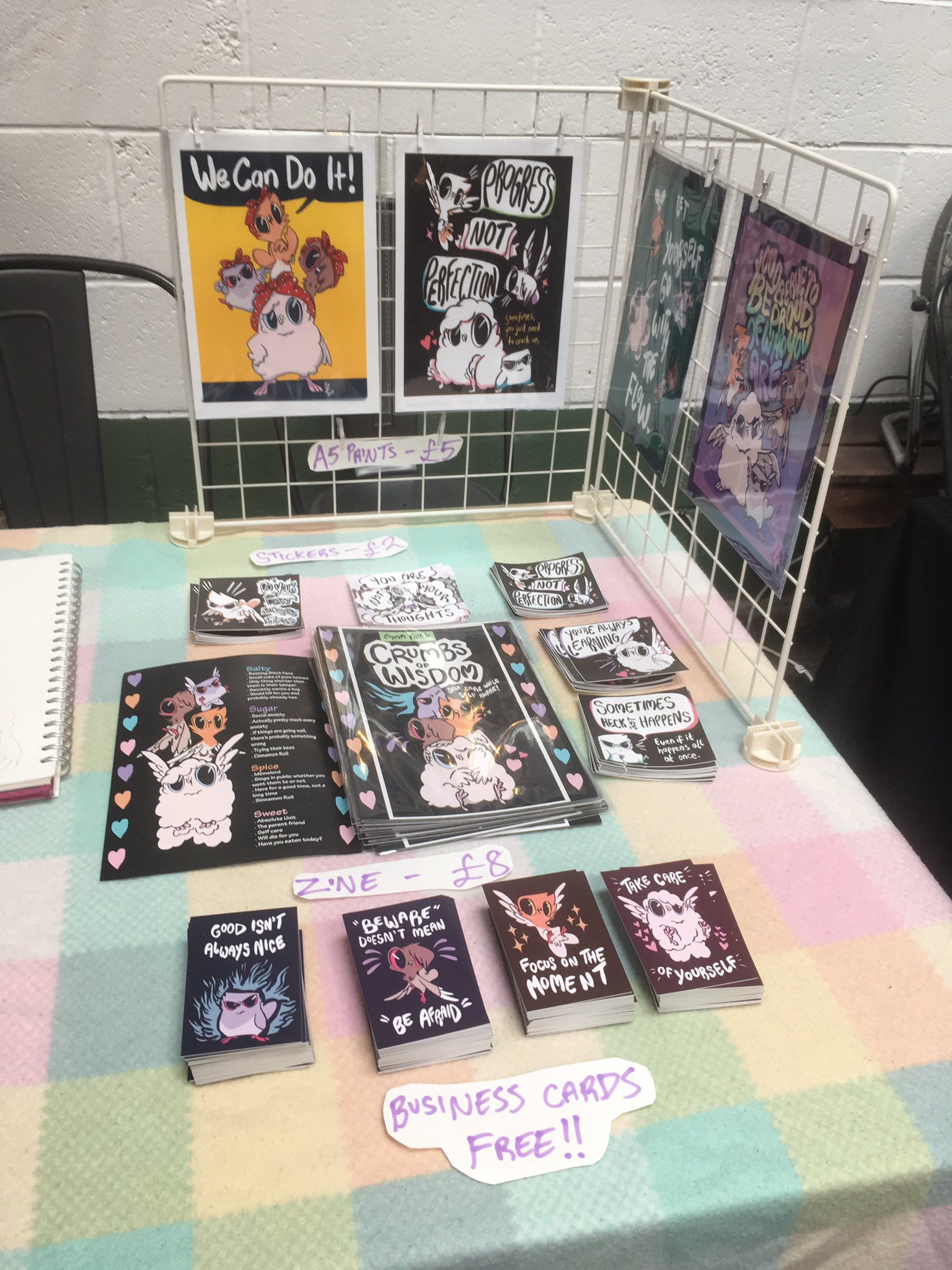 Oh and I almost forgot to mention! I was one of the artists to collaborate on their latest comic collection. Two pages featuring my pigeons! They were selling it at this event and will be selling at future ones too! It was so lovely to work on.
And then the weekend after THAT, I was at another anime convention from Anime League, sharing a table with my friend
Laura Kippin
. I'd brought all of my stock, including some new A4 prints as I was expecting it to be a similar setup to Sunnycon. Unfortunately this was not to be, as we put in the snack and rest area where people were not intending to spend any money and way out of the way of other vendors. Lets just say that Sunnycon was much more financially helpful than this convention. Due to this setup and the amount of money paid for the table, I'm very likely not going to go to this event again in the future.
But for one bright side, my table setup at least looked good! And I made friends with all of the other artists there as well. Hopefully we see each other at more successful events for artists!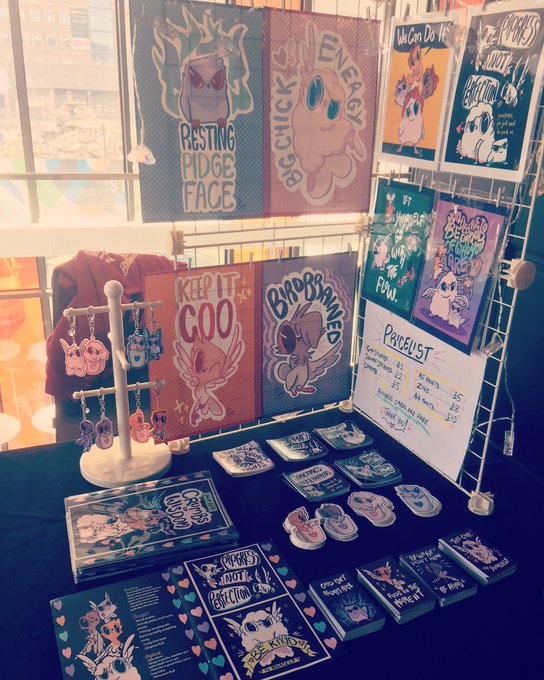 And another lovely thing was that a raffle was run on both days of the event that artists could contribute an item to if they wished. I decided to give them a copy of my Crumbs of Wisdom zine. Both times, the person who won either came to speak to me about my work directly or sent me a really sweet DM telling me how much it helped them and how they needed to hear/read what the zine had to say. This is why I want to work on Crumbs, why this is so important to me: if the pigeons help even one person the way they've helped me, I'm doing what I want to do in the world.
I'll be putting up the new A4 prints in my online shop next week, as well as a few other small things. I need to make a few tweaks to my etsy, such as adding postage costs to items under £3 in the UK for example. Kind of awkward if the postage costs more than the item, haha. But that I can work on next week, as well as continuing my business plan and market research.
At the end of July, I did a two day course with The Princes Trust in Exploring Enterprise. I'm right now working on making Crumbs a full time thing. As I said earlier, I'm out of work right now and I intend to get the ball properly rolling on making this a business. I might not be able to be as fast paced as I once was and my pain can stop me from being as productive as I used to be but it's not going to stop me entirely! Being self employed will give me the chance to take proper breaks to avoid burning out or worsening myself, which would regularly happen before. Now, I'm taking control of what I can do. Starting next week, I'll have a better focus on how I'm going to run things. But for now, I need to rest up a bit. I'll catch you guys next time and don't forget to look at my social media in the meantime to see updates throughout the month as they happen.
Take care and be good to yourselves!
~ Emma